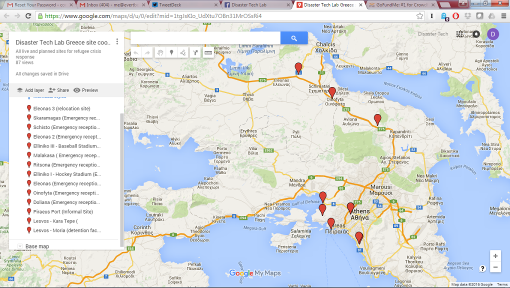 As our refugee crisis response enters its ninth month is is time to share a summary of what we have done so far as well as our future plans. First some numbers; so far we have installed equipment in 9 locations across Lesvos. This includes the two main refugee camps, Moria and Kara Tepe. Since we set up our networks in these camps over 400,000 refugees have passed through and used our wifi while staying in the camps. In addition to this NGO personnel, individual volunteers and personnel from the Greek authorities have used our services.  Our work on Lesvos will continue and we will continue to provide communication services for as long as it's needed.
Our CEO gave a short interview to RTE News recently that gives a good insight in our work. It's short and well worth listening to.
Our focus is moving to the Greek mainland now where, following the agreement between the EU & Turkey, a large number of semi permanent camps are being established. We have taken on the task of building wifi networks in 16 locations. Most of these are in or around Athens but 4 locations are in the North-West of the country. We are working together with a volunteer group from GRnet who are assisting us with connecting the networks in the camps to the actual internet. In some locations this requires us to build radiolinks across 30+ kilometres. Work has already started; The camp in Ritsona has wifi since last week and the range there will be extended. Our team also fixed a problem with the network at the Eliniko Hockey Stadium (which is being used a refugee center) and the network there is back up and running again. Site surveys for the other locations are planned for this coming week.
Having Internet access is making a big difference to the refugees. In addition to the obvious benefits of being able to stay in contact with their friends and family there is also the requirement that asylum applications have to be made via a Skype call. In addition to this schools and learning centers are being set up now that the camps are semi-permanent and these of course all require internet access. It's Disaster Tech Lab's mission to provide much needed communication means to the refugees. This has ranged from putting people with satellite phones on the landing spots in Lesvos last year (so that arriving refugees could make free calls to let their families know that they have arrived safely) to building wifi networks across multiple camps. Our work is not particularly high profile or visible but it's having an impact by making the refugees lives just a little bit more tolerable while they are in the camps.
Of course none of this would be possible without the hard work of all our volunteers who selflessly donate their time and expertise. We also owe a huge "thank you" to our equipment sponsors Cambium Networks, Goal Zero, Cradlepoint, Globalstar& Solar Stik as well as our long term partner organisations Airlink & the UPS Foundation.
And lastly we owe a big thank you to everyone who donated to our cause by making a contribution towards covering the costs of our work. If you want to make a donation also you can do this by clicking on the widget below.