Our first team member has been on the ground for 24 hours and has established contact with local partners as well as other responding organisations.
Meeting with CNS (local IT company in Port Vila), they are providing DTL with equipment storage, office space and additional volunteers.
Arrangements have been made for onwards travel to Tanna.
The first equipment shipment has arrived in Sydney and will be collected for onwards shipping to Port Vila, Vanuatu.
The 2nd equipment shipment is due in Sydney tomorrow.
Additional team members will arrive over the next two days.
Wireless signal survey in Port Vila initiated (see images below) data is being processed at the moment for use in digital mapping.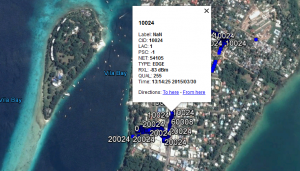 The meeting with Digicel (the countries largest cellphone provider) produced a good insight in the damage to the telecoms infrastructure, the recovery efforts and the most urgent needs.
All northern islands (less impacted) have been restored, quality is not always perfect but it's workable
Remaining issues are for Erromango, Emae (Shepherd islands) and Tanna:

– Erromango (population around 3000):

Situation: No coverage, 60m tower went down during the cyclone, it is 50 kms from Efate (Port Vila island) and was normally relaying data to get to Tanna
Need: temporary satellite link with E1 capabilities

– Emae (population around 2500):

Situation: No coverage, tower went down during the cyclone
Need: temporary satellite link with E1 capabilities

– Tanna (population around 45000):

Situation: Partial coverage, operating on VSAT at the moment but solution is not stable, they had no network yesterday pretty much the whole day. 3 of 9 positions are up at the moment and they are working on the others. A VSAT team will go there this weekend to work on a new installation.
Need: backup E1 VSAT solution to cover any outage and make the new installation easier without downtime. Equipment required: 5 x satellite link with E1 capabilities, BUC with 60W power, 3G Huawei compatible sites, Wifi units
We are currently planning on how we can best support Digicel in meeting these needs.
Please support our work by making an online donation via our GoFundMe page.