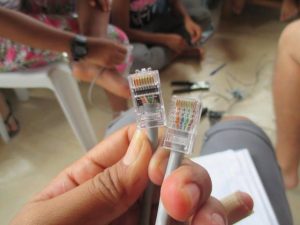 With the end of the December Philippines deployment now just over a month behind us we have completed the technical report for this deployment. Following is a short summary;
Mission statement:
To provide internet access to the main buildings & locations in Camp Arapal.
To establish an internal (and external) VoIP service.
To provide basic technical training in maintaining the network.
To provide multiple redundant backhaul links.
Site description:
Camp Arapal is located in a rural area South-West of Bogo city on the island of Cebu. There are no terrestrial communication services. Electricity supply is via an intermittent utility network and a backup diesel generator on-site. Geographically it's located in an area typified by rolling hills of volcanic rock. Camp Arapal has a resident population but also serves as a hub for the wider region as it houses a school, runs lively-hood programs and a very busy church.
Project description:
During an earlier deployment in early 2014 we had already installed a C-band satellite dish on a hill beside the main building. Additionally an Aruba Networks 3600 controller and two Aruba AP135 WiFi access points had been installed inside the main building. However due to technical issued and the building work going on but the satellite service as well as the AP's had stopped functioning. Part of the task-list for this mission included getting the Aruba AP's and controller working again as well as establishing additional backhauls as the satellite service was too costly to use on a continuing basis and would be configured to serve as a back-up service for when the other methods of backhaul stopped functioning (for instance because of a typhoon).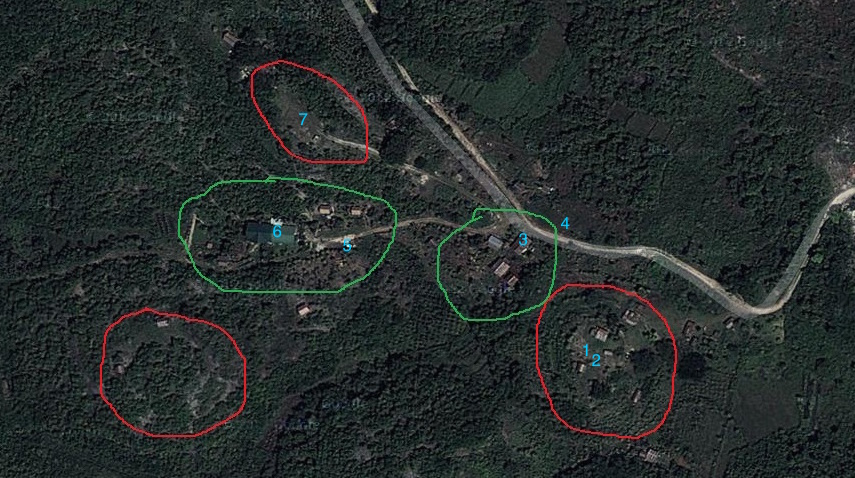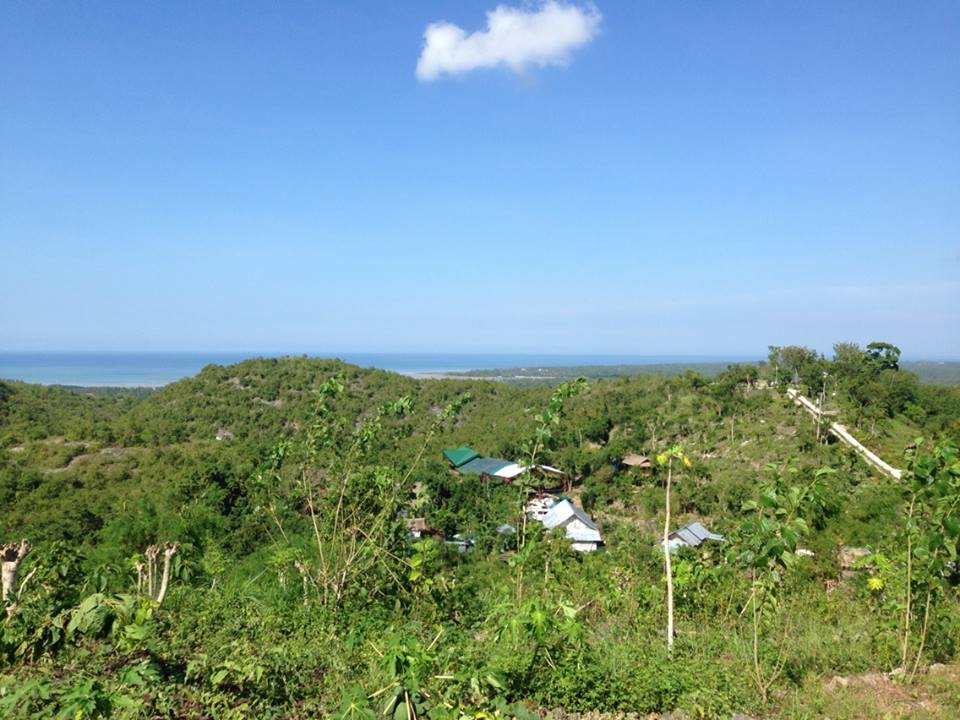 The above satellite imagery shows the lay-out of Camp Arapal with the different areas which needed to be connected marked. To give a more 3-dimensional view the second image shows the view from location 1 looking towards location 6/7.
Signal tests had proven that both location 1/2 (dubbed My Left Foot Hill/MLF) and location 7 (Shepherds Hill) had 3G coverage coming from a Globe telecoms mast about 13.5 kilometres to the North-West. Therefore 3G gateway devices were installed in both locations (1 & 7) to serve as backhaul links. In total there were 6 locations that required to be connected . These were spread across the camp. The below network diagram shows the layout of the network of the equipment used. As there were multiple routers in the network as well as multiple internet gateways we used VRRP (Virtual Router Redundancy Protocol) to manage the network dynamics. Follow the link for more details on how this works. Auto failover is configured in case a router or port failure (power outage, device failure, or device being unplugged).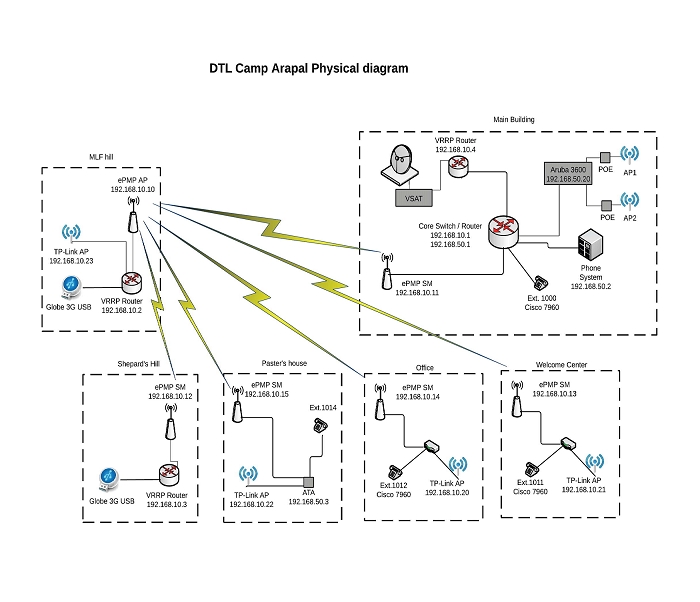 During this project we used Cambium ePMP (integrated) devices to build the Point-2-Multipoint links. This was our first deployment using these devices and they have proven themselves to be easy to install, easy to configure and very reliable. We used the model with the integrated antenna which simplified the installation. As VRRP routers we used Mikrotik RB750UP's a very low-cost but reliable router which also gave no problems at all. Globe Telecom had supplied us with a couple of their Globe Tattoo USB 3G sticks. These  gave some issues, mainly because they are consumer devices and not designed to be used in the type of network we were building but some fiddling, configuration changes and testing got everything to work in the long run. The Aruba 3600 controller and 2 AP135's in the main building were reconfigured and are now providing WiFi access in and around the building. We had shipped a number of Aruba Networks AP's antennas, POE's and other equipment from the US to be used in the network but as this shipment was still stuck in customs we were forced to source certain equipment locally. Hence the other buildings were all equipped with TP-Link TL-WR700N WiFi routers to provide WiFi internet access.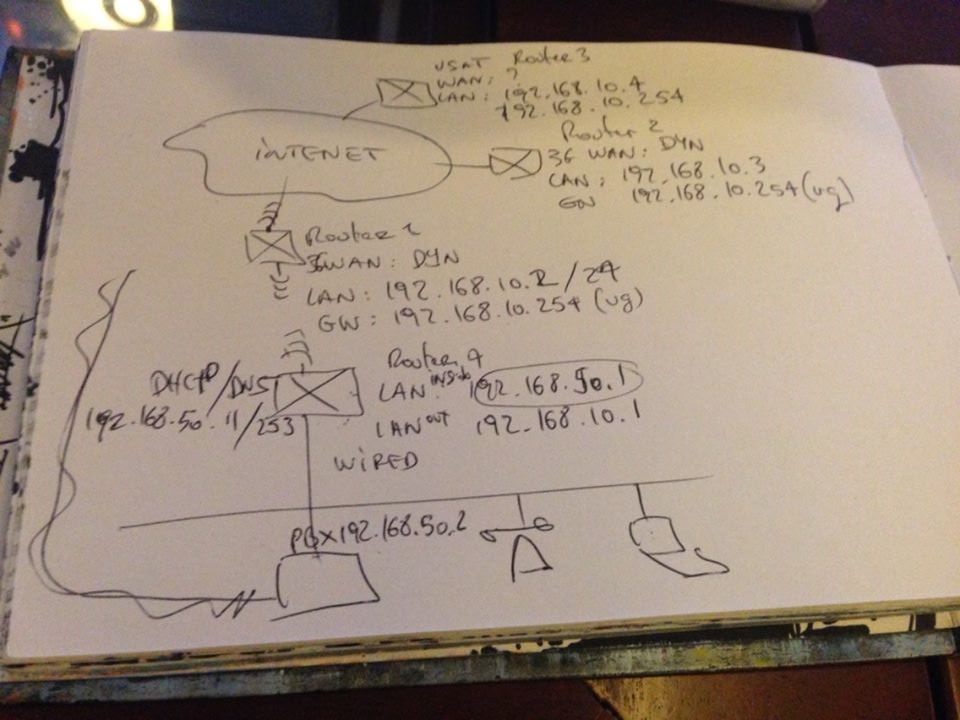 To handle the VoIP services we installed a Grandstream UCM6102 in the main building and Cisco 7940 desk-phones in each building. In one building we installed a Cambium C3VoIP-150 ATA device with a standard phone.
While the installation and configuration was ongoing our techs also ran classes for local volunteers teaching them networking basics ranging from IP addressing and routing to how to crimp Cat5 cabling and how to install the various devices. Beside the obvious benefit that it enables the local people to carry out basic maintenance on the network thereby guaranteeing its continuity it is also a means of introducing new, valuable skills into the community. Skills that might make people more employable and able to secure or improve a source of income.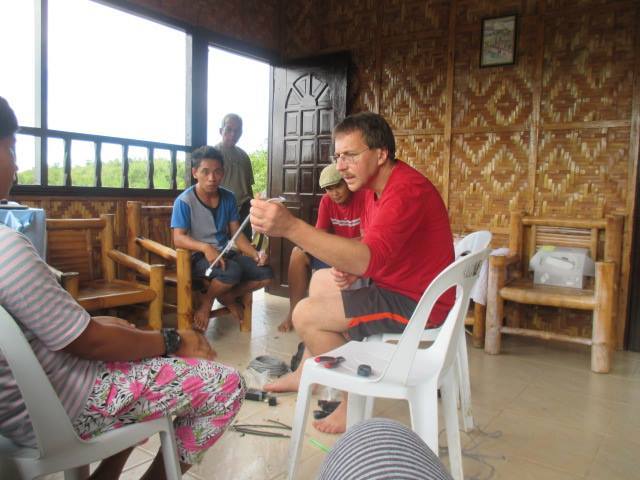 An additional, and not insignificant, part of this deployment is that we had a radio tower built-in MLF-Hill. This tower will serve a number of purposes; it improves the LOS from this high point in the camp to all other areas but it  will also serve as a location for equipment that will be used for longer distance Point-2-Point links to other communities in the area or to a (better) source of back-haul connectivity. Since the tower has been erected the organisation managing Camp Arapal have also suggested using it to install FM radio equipment so it can be used for a local community radio station.
As one can see from the long list of equipment used network deployments in this line of work are significantly different from those in the "first world". In addition to the usual challenges of the physical environment, unreliable power supply etc. we also have to deal with logistical issues of getting equipment to the location. Sometimes equipment doesn't show up, or doesn't show up on time requiring a high level of improvisation and adaptability. Our networks might not always win beauty competitions but it achieves what is needed; getting much-needed connectivity to those areas and people who are in dire need of it. To quote a recent report published by Deloitte on behalf of Internet.org:
Internet connectivity has already changed many aspects of the lives of individuals in developed economies and provided far-reaching economic and social benefits. Extending these opportunities is critical to accelerating economic and social growth in developing economies, while enabling the transition from a resource-based to a knowledge-based economy.
If, after reading the above, you feel like joining Disaster Tech Lab as a volunteer you can do so by following this link.
As a non-profit we are depending on private and corporate donations to enable us to continue doing our work. Generous and much appreciated donors can find our how to donate here.
We would also like to thank our sponsors: Cambium Networks, Aruba Networks, Grandstream as well as our two tech-volunteers Martin & Tom.
To finish of here are some more pictures from the deployment: