As typhoon Ruby was making landfall in East Samar our team members started arriving in Cebu. With people flying in from Winnipeg, Belfast, London, Los Angeles and Sidney there was a worry that flights might be cancelled but luckily everyone arrived more or less on time. The hotel they were staying in was already filling up with families seeking refuge from the typhoon. On the way from the airport to the hotel signs of ongoing evacuations were visible everywhere with schools and other buildings being used as shelters.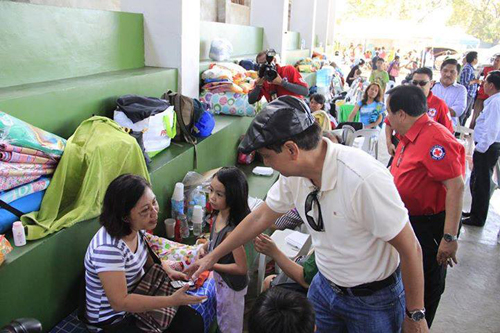 Contact with Camp Arapal told us that the camp was full with refugees from the typhoon and that it would be better if we postponed our arrival by a day. This was actually beneficial as we were able to send a delegation to a Ruby Task Force meeting organised by the local authorities. The meeting was attended by local authorities as well as NGO's such as All Hands Volunteers (one of our partner organisations), Islamic relief, Project Hope and others. The meeting provided a good briefing on the scale of the impact as well as coordinate with other NGO's and make them aware of our presence and capacities.
While the meeting was going on our techs Martin & Tom got their geek on and fixed the hotel's wifi.
On the same day several boxes of supplies & equipment which we had shipped from the US in early October (thanks to the Handang Tumulong Foundation) arrived in Cebu. Again a case of perfect timing. The team and the supplies have since made it to Camp Arapal. While power is still out at the camp our techs have carried out their site survey and will start building the wifi P2P links tomorrow. In the meantime the medical team got stuck in straight away also and has already treated several medium casualties and one urgent one. The first medical clinic is planned for tomorrow. More updates to follow soon.
In the meantime your donations are still very much needed. As our work has goes on so will the costs. Your donation will allow us to purchase more medicine locally which will be administered to people attending the clinics. Please make a donation online and share this blogpost. You can by following this link.