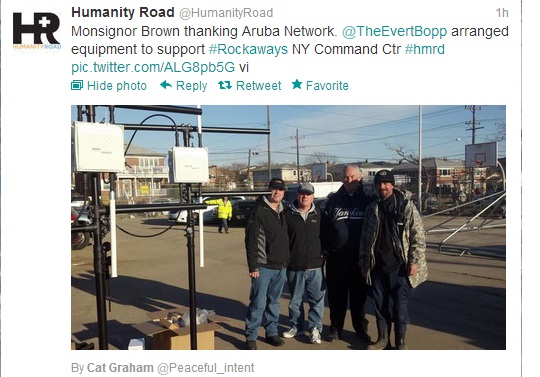 Mark Rubino, John Garrison, Monsignor Brown & local volunteer.
It's been 12 days since Superstorm (thank the media for that term) Sandy hit the US East Coast and Disaster Tech Lab has been flat out busy assisting in the disaster response work. Below is a short sit-rep of the work done so far;
Our initial response effort started when we logged into the "VTC Coordination #Sandy" room on Skype where people from Crisiscommons, first responders, NGO's and government huddled around sharing information and dealing with request & needs for virtual support. A lot of this was done through the various Crisiscamp communities across the globe.  The initial effort focused on mapping various dataset and considering our background we focussed on mapping locations with functioning telephone (fixed line & cellular) services as well as location of working public wifi. We used the Ushahidi based "Crowdmap" service to quickly put this in a manageable format resulting in the Sandy Comms Map. While the initial idea behind this platform is to crowd-source the data via user reports we also decided to use other sources of publicly available data to quickly populate the map as we had noticed that a lot of crowd-mapping initiatives in the past had fallen flat because of lack of actionable data. Our first port of call was the NYC Open Data website where we pulled down their data on wifi hotspot locations across NYC. This dataset was split up into "free" & "paid" locations, converted to .kml format and uploaded to the map as a separate layer. Of course these locations had to be verified for their status so we used Twitter to push out the awareness and asked people to report locations that were not working. We also actively filtered Twitter for tweets mentioning telephone outages and working wifi in NYC and asked people directly to report these using our map. At a later point we alos added locations with cellphone & laptop charging facilities to the map.
Next stop was to contact wifi hotspot operators. It was decided that the best option was to go for an aggregator as they held the largest amount of data and we approached Boingo. They were extremely helpful and assigned someone to manually track "live" locations in NYC and report back to us twice daily. This quickly added over 100 locations to the map. We also contacted FON who could not supply us with a data-set but who referred us to their online map assuring us that locations on that map were live so we set about adding as many of these as possible manually. At the moment the Sandy Comms Map has 126 crowd-sourced locations as well as the data include din the two separate layers.
For the Saturday following Sandy we organised a Crisiscamp Ireland meetup to co-incide with a number of Sandy-themed Crisiscamps taking place across the world. You can read more about what was done there here and here.
On Sunday morning a request came in from Humanity Road, an organisation that we've worked many times since the 2010 Haiti earthquake. The unstoppable Graham sisters who run the organisation where heading down to NYC in an RV which would serve as a mobile command post and Internet access location as part of their JOAN (Joint Online Access Network) initiative. They didn't have any scalable form of Internet access and the request was if we could deploy a team on the ground in NYC to build a wifi network in and around the RV. We were happy to accept the challenge and put a call out for available volunteers. Our long term sponsor Aruba Networks quickly stepped up to the plate to provide the needed equipment and by Monday morning we had two engineers on their way to NYC and equipment being shipped from California. While the engineers where in NYC by late Monday the equipment didn't arrive until Tuesday (not bad though seeing that it was ordered late Sunday afternoon). They hit the road to Rockaway in order to carry out an initial needs assessment. The initial reports were that the situation was pretty grim with widespread damage, lots of displaced people, and no electricity or heating. After a quick conference with Cat Graham John and Mark set about building the outdoor wifi network. They mounted two Aruba Networks 75 Outdoor AP's on poles and connected 1x omni-directional and 1 x sector antenna per AP. As it turned out the backhaul that we were told would be in place hadn't arrived so efforts were started to secure a suitable source of backhaul. As most fixed infra-structure was either destroyed or put out of service the only source of backhaul had to be wireless. This could be satellite, WiFi, Wimax, LTE, UMTS or microwave. It was not an easy task as the proliferation of temporary masts and base stations that had sprung up was polluting the radio-spectrum making some service almost impossible to use.  We eventually got in touch with Joe Hillis from ITDRC who offered to send a truck to Rockaway and put Satellite backhaul in place using Viasat's service. However a mandatory evacuation order was issued on Wednesday due to an incoming storm and our team had to leave Rockaway early.

Everyone returned early on Thursday and John & mark met up with Joe Hillis who set about installing the satellite backhaul while our engineers continued to build out the wifi network. The ITDRC people connected a  WRT54G running DD-WRT to their satellite modem and we took it from there. The internal wifi network installed consisted of 6 Aruba Networks IAP-93 AP's all managed from an Aruba 2500 Access Mobility Switch.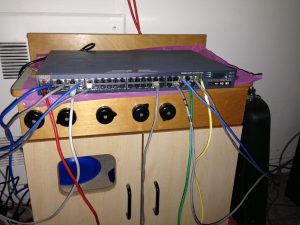 Aruba Networks 2500 Access Mobility Switch deployed in the command center.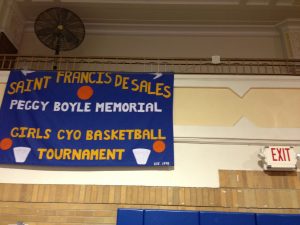 Aruba Networks IAP-93 mounted on the railing provisind wifi to the command center in Rockaway.
The network was configured with two SSID's, one open for public access and one closed for private. By the end of the day the internet network was chugging away with 20Mbps download speed and 5 Mbps upload speed. Next was the outdoor wifi coverage to provide access in and around the food distribution point and "warming tent" which were set up across the road. For this the pole mounted AP 75's were used. By the middle of the day on Friday this was also done and the location was declared 100% up and running. The below imaged will give you a clear insight in the network performance. It shows the results grabbed from the food distribution point across the road from the school.
We are now preparing for further deployment by shipping in more equipment and volunteers into NYC. It is clear that the crisis situation there is far from over and that there will be a short to mid term need for temporary services and utilities.
NOTE: As Disaster Tech Lab is a charitable trust we depend on volunteers and donors to enable us to carry out our work. If you want to support our work by donating you can do so safely online by clicking on the "DONATE" button at the top right of this page. Or want to join as  a volunteer then please contact us via email.
Related articles